The following information will help to explain how to print  the files for those using Adobe Acrobat Reader. If you are using another .pdf reader then you may wish to consult the printing instructions from the help menu. All the patterns available on this site have been created using Adobe Acrobat, and therefore it is recommended that you use Adobe Reader to print the patterns for maximum compatibility. You can download Adobe Acrobat  Reader from here: http://get.adobe.com/uk/reader/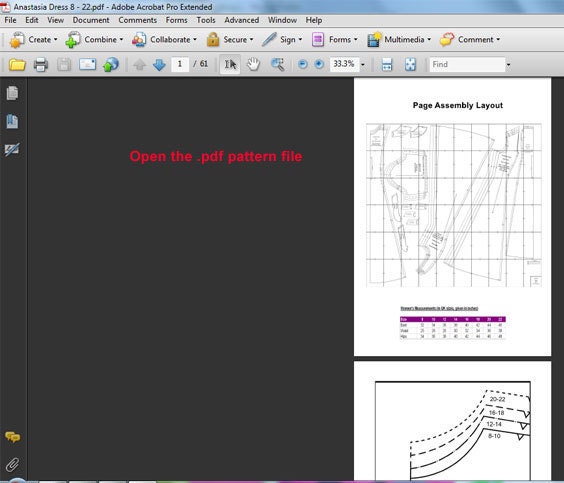 Open the pattern file in Adobe Acrobat Reader (yours may look a little different to this as this version has editing abilities, but the other functions are the same)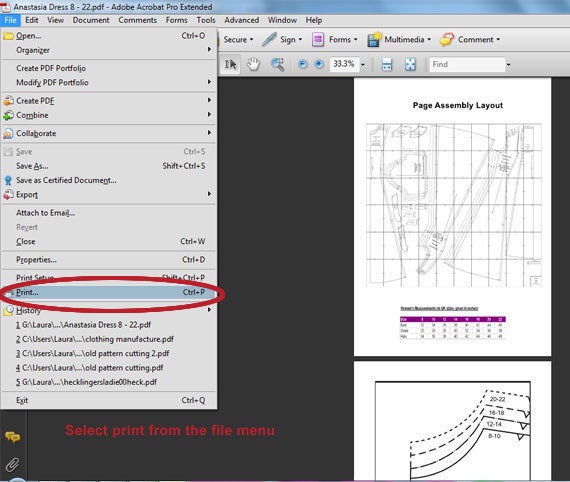 From the file menu, select "Print".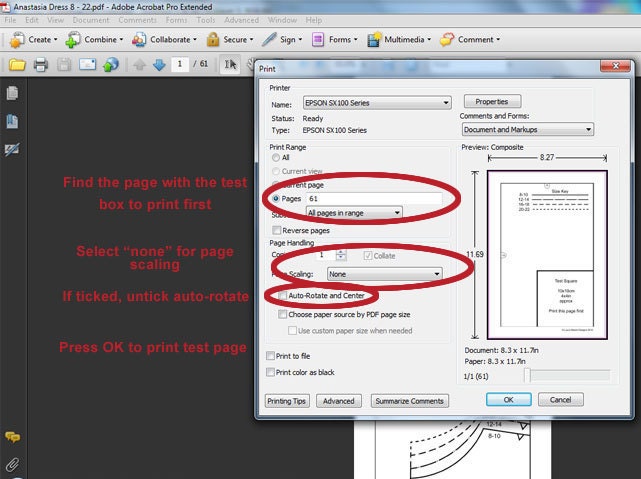 Find the page with the test box, the box should measure approximately   10x10cm when printed. 
Enter the page number into the pages box.
In "page handling" set the page scaling to none, and if the box  "Auto-rotate and center" has been ticked, untick it. 
Press OK to print your test page.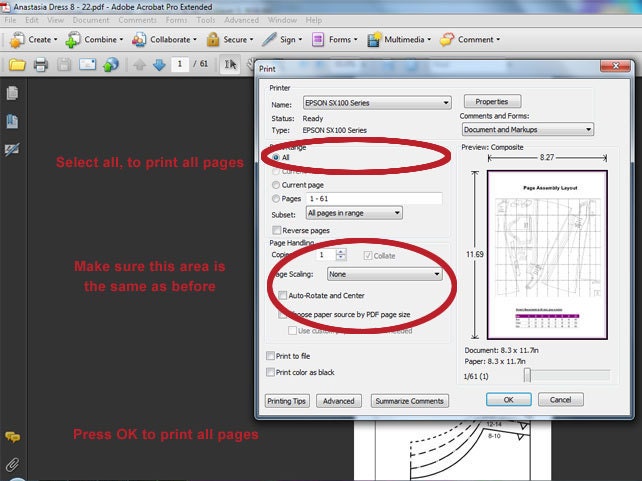 If you are happy with your test page, print all pages. Select All from the page range area. Make sure the page scaling boxes are the same as they were previously and click OK to print all pages. 
If your printer has a draft setting, you can use it to save ink on  printing. The lines on the pattern are quite thick and will still be clearly  visible. You can check to see by selecting the "Properties" button next to   your printer name.
The print is the wrong size: If the print out is the wrong size check your settings. If you've previously been printing different sized pages the settings may have been carried over. Check the page size is set to A4. Make sure you don't have multiple pages per page selected (this will be within your printer  properties area if your printer allows this function). 
Also make sure your printer hasn't enlarged or reduced the image, again not all printers can do  this, it'll be within your printer properties area if it has been selected.
If you've checked all those functions and you're still not printing correctly. Try updating the software. Most patterns are compatible with Adobe Reader 9+, so if you're trying to print from an older version it may be causing errors or worse, it may tell you it's not compatible. So visit the Adobe website for a free update. 
If after you've tried everything else and it's still not printing to the   right size - check your printer. No advice can be given on your printer as   there are 1000's of different printer, which all have the ability to do different things. But if you visit the printer area of your PC (control panel for Windows users), and select the properties and printing preferences buttons you'll be able to see what settings are currently being used, and   change them if necessary.